Flat beech boards

Beech plywood
We use logs from our local forests to produce our own beech plywood boards. Our PEFC-certified products are peeled, dried and glued in cross layers to guarantee top quality, hardwearing boards. All the materials used during the manufacturing process meet the most stringent environnemental and health standards.
We recycle all unsused wood and shavings for biomass energy.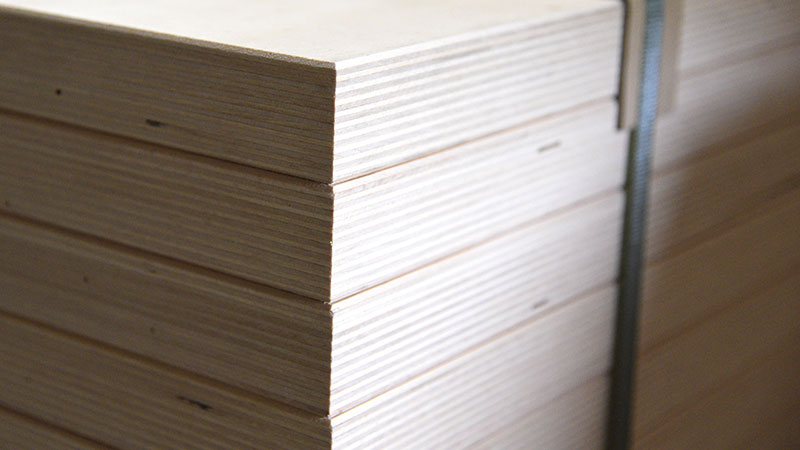 Our beech plywood boards are known for their excellent mechanical stability, durability and attractive appearance.
For all your specific needs, we also have a wide range of industrial coatings for multiple uses. We also supply workbenches in glue-laminated and joined solid beechwood.
Description
Max standard dimensions: 2000 x 750 mm

All sizes up to 2500 x 1200 mm
Standard thicknesses: 24/30/40/60 mm
(0,8 – 1,2 – 1,5 – 2,0 – 3,3 & 3,7 mm layers)
Machining
Sanding: faces, edges, right-angled edges
Drilling on 5-axis NC
Cutting and routing for machining, rebating
Supply and placement of inserts
Tongue and groove jointing for sizes > 2500 x 1000 mm
Finishing
Straight, rounded or chamfered edges and corners
Non-veneered edges: filled honeycomb or without honeycomb on request (clean interior)
Clear or tinted varnish or linseed oil (stainproof and greaseproof)
Veneered edges: PVC, 2 mm ABS, 1 mm wooden edges, solid wood mouldings and other options on request (melamine, wood veneer)
Other coatings on beech plywood (see composite boards sheet)
Technical Data
Average density: 730 kg/m3
Thickness tolerance: ± 3%
Length / width tolerance: ± 1 mm
Adhesive used: Urea formaldehyde
Formaldehyde emission: E1 in accordance with standard NF – EN 717.2
Residual moisture after drying: 8% ± 2%
Moisture resistance: class 1 adhesive in accordance with standard EN 314
Fire resistance if thickness > 9mm : M3
Flatness: 4mm per linear meter
Areas of use
Workshops and industrial equipment
Couture fashion and leather goods workshops
Cabinet-making workshops
Private individuals